Quick and precise
Strong and easy to use and maintain
Double display
Possibility to memorize and customize up to 9 cooking programs
Core probe input
reliable according to ipx3 protection standard
SETTING OPTIONS
Preheating
Cooking room temperature
Cooking time
Core probe temperature
Δ°T cooking
Percentage of injected stem inside the cooking room
Switch on/off of internal lights
When ordering, you can request to combine the ovens of the Nerone Mid line with the sabina hook thanks to the accessory, code cabsafemid, located in the control panel.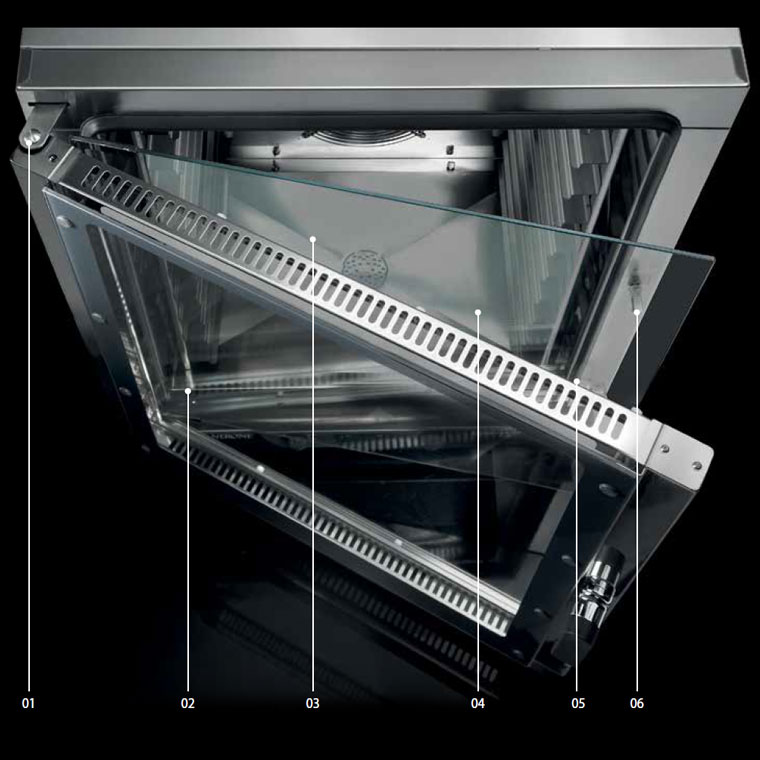 01 - Door hinges mounted on bronze bushings for longer life of the opening mechanism.
02 - Door and oven condensed water system drain.
03 - Maximization of the cleaning operations thanks to the foldable internal glass of the cold door.
04 - Stainless steel cooking chamber with rounded corners.
05 - Guarnizioni con sistema di fissaggio ad incastro. Interlocking gasket fixing system. 
06 - Magnetic switch for controlling the door opening statusa.